Debbie teaches harp and piano lessons to students of all ages. She has a friendly, relaxed approach to teaching. She emphasizes proper technique and hand position. She also incorporates music theory into the lessons so students understand rhythm, intervals, and key signatures.
Debbie will listen to what the student's goals are and help to achieve them, whether it is to eventually play with an orchestra, perform in church, or just learn to play a certain song.
The lap harp is just that- it weighs about 8 pounds and can be held on your lap. It has between 22-25 strings. There is a bar that holds it in place. It also comes with a strap so you can stand or stroll while playing. Many harpists use it for therapy, harp circles, or just to have a light, portable harp to play. Most music written for the lever harp can be adapted to this harp.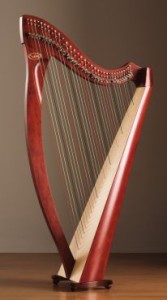 The lever or folk harp is a good choice for the beginning student. It has between 27-40 strings depending on the size. Levers at the top of the harp are moved manually to raise or lower the pitch. Music can be played in C Major, 3 sharp keys, and 3 flat keys. Music is written or arranged for the lever harp. It is quite versatile; a variety of styles of music can be played including Celtic, classical, and popular.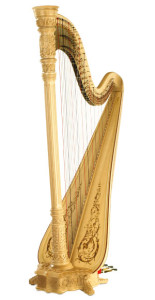 Photo: © Lyon and Healy Harps
The pedal harp is for the student who has progressed and is ready to perform more advanced music. She will be able to play all of the major works for the harp as well as music that is beyond the limitations of a lever harp. If a student is interested in playing with an orchestra, chamber music group, or is thinking of going to music school, a pedal harp is needed.
A concert harp has 47 strings. Foot pedals at the base of the harp change all of the sharps and flats; there are 7 pedals, one for each note. Three notches change the pitch to flat, natural, or sharp. It has a big, rich sound.